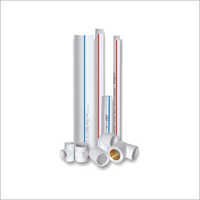 UPVC Plumbing Pipe
Product Description
We are highly reckoned as the profound manufacturer and exporter of an extensive range of UPVC Plumbing Pipe. Available for clients in a wide range nominal bore sizes, these pipes are suited for plumbing purpose in residential and commercial buildings. Ideal for outdoor installations, these pipes are made from the best quality UPVC, that is chemically inert. Prior to final dispatch in market, we make sure to inspect the quality of this UPVC Plumbing Pipe on various standard quality parameters.
Key Attributes:
Leak proof joints
Corrosion free
No sediment deposition
Protected from UV-rays

Further Details
Clients can get these IS 12818, ISO 9001:2008, CE, GEDA and BEE 5 Star certified Plumbing-Pipes from us in customized forms and at genuine market rates.

Specification

Properties remain unchanged up to temperature 60oC continuous and 90oC for short time

Size 15mm (0.5") to 100mm (4") (Available in SCH-40, SCH-80 & SCH-120)

Standards & Specification followed

ASTM-D-1784 -Standard Specification for right PVC compounds

ASTM-D-1785-Unplasticized-PVC Pipe-SCH40, SCH80 & SCH120

ASTM-D-2467-Unplasticized-PVC Pipe fitting SCH80

Joining Instruction
For threaded pipes, use of PTFE tape is recommended to avoid damage and subsequent leakage. Threaded pipes can also be jointed with metal pipes and fittings. No special equipment required. Lesser time consuming than metal pipes.

Salient Features

Low frictional Loss
Non-Toxic
Weather Resistance
Smooth Internal Surface
Tough & Strong
Impact Resistance
Maintenance free
Technical Specifications


Nominal Pipe Size

Outside Diameter

Schedule-40

Schedule-80

Schedule -120

Mm

inch

mm

Wall thickness

Working pressure

Wall thickness

Working pressure

Wall thickness

Working Pressure

mm

Mpa

psi

mm

Mpa

psi

mm

Mpa

psi

15

1/2

21.31+0.10

2.77+0.51

2.07

300

3.73+0.51

2.90

420

4.32+0.51

3.52

510

20

3/4

26.67+0.10

2.87+0.51

1.65

240

3.91+0.51

2.34

340

4.32+0.51

2.69

390

25

1

33.40+0.13

3.38+0.51

1.55

225

4.55+0.53

2.21

320

5.08+0.61

2.48

360

32

1 1/4

42.16+0.13

3.56+0.51

1.27

185

4.85+0.58

1.79

2.60

5.46+0.66

2.07

300

40

1 1/2

48.26+0.15

3.68+0.51

1.14

165

5.08+0.61

1.65

240

5.72+0.68

1.86

270

50

2

60.32+0.15

3.91+0.51

0.96

140

5.54+0.66

1.38

200

6.35+0.76

1.65

240

65

2 1/2

73.02+0.18

5.16+0.65

1.03

150

7.01+0.84

1.45

210

7.62+0.91

1.59

230

80

3

88.90+0.20

5.49+0.66

0.89

130

7.62+0.91

1.31

190

8.89+1.07

1.52

220

100

4

114.3+0.23

6.02+0.71

0.76

110

8.56+1.02

1.10

160

11.1+1.32

1.52

220