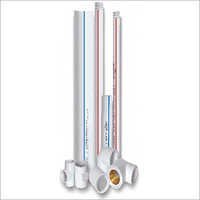 UPVC Pipe
Product Description
Backed with our excellent in this industry, we are highly reckoned for manufacturing and exporting an extensive range of UPVC Pipe. These pipes are ideal for potable water supply and for use in building construction and various industrial applications. Offered to clients in different sizes in order to meet their particular requirements, this UPVC Pipe is considered as the best hygienic medium for fluid transportation.
Features:
Non-toxic and impact resistance
Weather proof quality
Resistance against contamination

Specification:
Properties remain unchanged up to temperature 60oC continuous and 90oC for short time.
Size 15mm (0.5") to 100mm (4") (Available in SCH-40, SCH-80 & SCH-120)

ASTM-D-1784 -Standard Specification for right PVC compounds.
ASTM-D-1785-Unplasticized-PVC Pipe-SCH40, SCH80 & SCH120
ASTM-D-2467-Unplasticized-PVC Pipe fitting SCH80.

Standards & Specification followed
Application:

Water ascending for submersible and plane pump for Irrigation, Domestic, Industrial mining, Chemical circulation.
An astute trade for MS, PPR, ERW, GI, HDPE and SS Column Pipes.
uPVC is about inactive towards consumption, compound response and disintegration because of which, it is in a perfect world utilized as a part of salty, sandy and artificially forceful water with no impact throughout the years.
Installation : Vertical, Horizontal or inclined.
Joining Instruction:

For threaded pipes use of PTFE tape recommended to avoid damage and subsequent leakage. For threaded pipes can also be jointed with metal pipes and fittings. No special equipment required. Lesser time consuming than metal pipes.
Further Details:

Surface completion of this pipe is to a great degree smooth which diminishes the pressure driven grating losses and expand stream of water.
Internal and External Square strung nozzle closures and elastic gasket for simple, dependable joining and weight fixing.
Special square string given brisk and simple establishment office and having high load bearing limit.
Inside fixing ring for turbulence free sealed joint and averts over fixing.
Step ring forestalls spillages and control the vibration and over fixing.
Inkjet printing and Hallmark to forestall duplication in business sector and guarantees unique certifiable items.
Very smooth inward surface expands 10% to 30% Water and Reduces 10% to 20% Power utilization
Provision of external ring to avert spillage and over fixing.
Extra-long coupler in Heavy++ and Super Heavy arrangement for higher burden pulling quality and upkeep free join.
Additional Features:

These are 100% rust proof and resistant to chemicals.
It has minimum friction loss.
It is available in reasonable price.
The product consumes very less power so it is highly recommended as an energy saving product.
It has long-lasting performance.
It has no electrolytic deposition.
It is very user-friendly and easy to install.
It is made up of non-toxic materials.