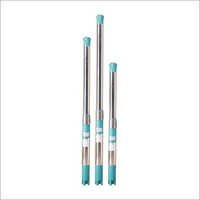 Borewell Submersible Pump Set
Product Description
Since our inception in this industry, we are highly reckoned for manufacturing and exporting excellent quality Borewell Submersible Pump Set. Suitable for use in construction, nursery, bungalows, high storey building, agricultural irrigation, ponds and pressure boosting, it is capable of pumping clean water and other fluids. This Borewell Submersible Pump Set has better life in sandy water owing to its advanced technology.
Features:
Noise free operation
Require minimum maintenance
Easy to install
Better life in acidic water
Stainless steel pump internals

Performance Range:
Flow rate up to 80 l/min (4.8 m/h)
Head range up to 106 m

Operating Limits:
Maximum fluid temperature + 30 oC
Maximum sand content 50 g/m
Starts: max. 4/h

Structural Characteristics
:
SLEEVE: AISI 410 & noryl
PUMP SHAFT: AISI 410
IMPELLER: noryl GFN2
BOWL: noryl

SUCTOIN CASING : cast iron FG 200
COUPLING: AISI 410
NON RETURN VALVE : cast iron FG 200
DOL: noryl GFN2
BEARING BUSH: nitrile rubber

MIDDLE: noryl GFN2
BOLTS& SCREW: stainless steel

Specifications:
CRND M47 electrical sheet stamping with C6 covering for low power utilization and long life
Stainless steel 420 evaluation rotor and pump shafts
FG-260 evaluated pump Bowl for better execution and long-life
SS 410/Bronze Impellers
Special Carbon cushion push bearing
Special composed spring activity weight leveling stomach
Sand Slinger/oil Seal for better assurance of engine
Specially prepared 3 layered (polyster + 2BOPP) winding wire
LTB-4, Leaded Bronze hedge with ideal wear resistance.
Specially outlined key sort rotor get together with stamping locking procurement
Hardened and Burnished rotor sleeves
Hardchromed pump sleeves for assurance against wear and consumption
Powder smeared forge T-Bolt.
Further Details:

IS 8034:2002 and IS 9283:1994 BIS guaranteed models
5-Star evaluated Energy productive pumpsets simple to disassemble and repair
Available from 3.0HP to 15.0HP in Three stage and up to 7.5HP in single stage
Also Available in NEMA standard mounting measurements
Built-in NRV valve to diminish danger of water hammering
Stainless steel threw and created pumps are likewise accessible
Bare pump with 50ft head (5RH arrangement) are additionally accessible in complete SS development
Turbo arrangement engine ready to working wide voltage range (250-415V)
Low Voltage (180-350V) engines are likewise accessible
Specially outlined high thickness folded pressing to ensure against harms amid transportation
Complete body in SS Construction or Special development choice for destructive applications, including acids, pH and sea water.
Technical Details:
Model
DSP5RF
(Radial flow)
DSP5MF
(Mixed flow)
DSP5RHSS
(Radial Flow)
Nominal Outlet size
Mm
50
65 & 75
50 & 65
(in BSP thread)
Inch
2
2.5 & 3
2 & 2.5
Discharge
m3/hr
3 to 23
16 to 42
7.2 to 21
Lpm
50 to 380
270 to 700
120 to 350
Lps
0.83 to 6.33
4.5 to 11.67
2 to 5.83
Per stage head
Meter
8
7
9
Head Range
Meter
20 to 340
17 to 120
27 to 225
Motor rating
Kw
2.2 to 9.3
2.2 to 9.3
3.7 to 11
Hp
3 to 12.5
3 to 12. 5
5 to 15
Stage
Nos.
3 to 35
3 to 12
3 to 25
Rpm
50Hz
2880
2880
2880
60Hz
3440
3440
3440
Maximum outside diameter
Mm
122
122
122
Method of starting
Sp
CSCR
CSCR
CSCR
Tp
Dol/Star-Delta
Dol/Star-delta
Dol/star-delta
Maximum starts per hour
Nos.
12
12
12
Version-AC supply
Sp
180-230V
Tp
380-415 V
Degree of protecton
IP 58
Duty Cycle
S1 (Contnous)
Direction of Rotation
Anti-clockwise
Minimum cooling flow along the motor
0.15m/sec
Details
Model
Vs
I.P.
CI. ; FG 200
Bowl
CI. ; FG 260
Impeller
SS 410/Bronze
Middle
CI. FG 200
NRV
C.I. FG 200
Pumpshaft
SS 420
Wear Ring / Nrv Ring
Nitrile Rubber + SS
Sleeve
SS 410
Bearing Bush
Nitrile rubber / LTB-4
Pump Tube
Cable Guard
SS 410
Couple
SS 410
Fasteners
SS 202/410
Strainer
SS 202
Adaptor
C.I. ; FG 200/220/260
Upper Housing
C.I. ; FG 200/220/260
Lower housing
C.I. ; FG 200/220/260
Motor-Base
C.I. ; FG 200/220/260
Rotor Shaft
SS 420 / 431
Stator Tube
SS 202
Thrust Bearing pad
Carbon
Thrust Bearing Base
C.I. ; FG 200 / SS 420
Diaphragm
Nitrile Rubber
Oil Seal
Nitrile Rubber + SS
Drain Plug
Brass